Gord McEachen, Acting Chief
Gord began his EMS career with Toronto as a Paramedic in 1985.  He became one of the early Advanced Life Support Paramedics and one of the first Tactical Paramedics before being promoted to Supervisor, EMS Education as a Clinical Educator in 1995.
Gord moved his career from Toronto in 1999 and became Manager of Special Operations and later, Director of Operations with York Region EMS.  In 2006, Gord took his career from York Region to British Columbia and became Director of the Lower Mainland with the British Columbia Ambulance Service (BCAS).  Gord's progressive roles and responsibilities included a variety of programs and projects in operations, training, quality assurance, medical oversight programs and the management of many large-scale events.
In 2009, Gord returned to Toronto EMS in the role of Commander, Policy and Program Management reporting to the Chief.  He was re-assigned to the Deputy Chief's office, Operations in 2010.  Gord was promoted to the position of Deputy Chief in March 2011 and has since led the Toronto Central Ambulance Communications Centre, Program Development and Service Quality and the Operations program areas.
A confirmed life-long learner, Gord's educational background includes Advanced Emergency Medical Assistant certification (Ontario), Advanced Care Paramedic certification (CMA Level 3 – Sunnybrook), ALS Instructor certification (Sunnybrook Hospital), Bachelor of Physical and Health Education (University of Toronto), Bachelor of Health Sciences – Prehospital Care (Charles Sturt University), a Masters Certificate in Municipal Management (York University) and numerous Emergency Management programming from the Justice Institute of British Columbia.
Gord's wealth of experience and education make him a valuable member of the Toronto Paramedic Services team.
In January 2017, Gord was appointed to the position of Acting Chief, Toronto Paramedic Services.
Leo Tsang, Deputy Chief, Operations
Leo graduated from the University of Toronto in 1993 with a degree in Psychology and graduated from Centennial College in 1994 with a Diploma in Ambulance and Emergency Care.

He began his career with Metropolitan Toronto Ambulance in 1994 as a Driver/Attendant and became an Advanced Care Paramedic in 1998.

Leo began his management career in 2002 as an Acting Superintendent in Operations and was assigned predominantly to District 4 and Special Operations. He was promoted to Superintendent of Operations in 2005 and assumed the role of Administrative Superintendent for Special Operations. Subsequent to that assignment, Leo has also gained valuable experience as the Commander in the Communications Centre as well as returning to Special Operations as the Commander in 2015.

In addition to his Advanced Care Paramedic Training, Leo has also had the privilege of serving with the Public Safety Unit, the Tactical Paramedic Unit, the Chemical, Biological, Radiological, Nuclear, Explosive Unit as well as the Peer Resource Team.
Mike Neill, Deputy Chief, Program Development and Service Quality
Michael Neill was appointed Deputy Chief, Program Development and Service Quality, Toronto Paramedic Services on September 30, 2016.
Michael has over 40 years of experience with EMS and was instrumental in the development and education of Ontario's very first Advanced Care Paramedics through the Toronto Institute of Medical Technology, starting in 1984.
Among his many other accomplishments, Michael spearheaded CMA Accreditation for Toronto EMS' own paramedic training program, introduced Ontario's first Field Training Officer Program, oversaw and designed the Christopher J. Rubes Centre for EMS Studies, developed and participated in the education of OPALS paramedic centres and formed the original Patient Transfer Authorization Centre (PTAC) during the SARS crisis.
Retiring from Toronto EMS as Deputy Chief in 2010, following an extraordinary career, Michael went on to provide professional support to the ORNGE air paramedic service and to private health care consulting firms. Michael holds degrees in Business Administration, Health Science, and a graduate degree in Education.
Rhonda-Hamel-Smith, Deputy Chief, Operational Support

Rhonda brings 27 years of progressively responsible management experience, 17 of which have been with Toronto Paramedic Services.

Her career began with the City of Toronto in 1989 in the Human Resources Division providing front line service delivery to City divisions, including Water, Solid Waste Management, Engineering Services, Parks, Forestry & Recreation, Long-Term Care Homes & Services and Transportation. In 1991, she was promoted to Supervisor, Labour Relations, in Paramedic Services, where she provided employee and labour relations support, including collective bargaining.

In 2002, Rhonda was promoted to Manager, Employee & Labour Relations, in the City's Human Resources Division where she became chief spokesperson for collective bargaining for the City with Toronto Civic Employees' Union, Local 416, and led several rounds of negotiations. She acquired a wealth of experience in helping to develop and implement significant change initiatives for the City's operating divisions.

In 2011, Rhonda returned to Paramedic Services as the Commander, Business Services, and in this role has provided direct business support and strategic advice to myself and the four Deputy Chiefs on operational and divisional initiatives.

Rhonda holds a Bachelor of Theological Studies from Concordia University, and a Master's Degree in Industrial Relations from Queen's University.

She has a strong, collaborative and innovative leadership style that will continue to help Toronto Paramedic Services achieve its employee and service objectives.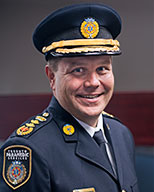 Tarmo Uukkivi, Deputy Chief, Central Ambulance Communications Centre
Tarmo started his career in both RVH Barrie Ambulance and Midland and District Ambulance services after graduating from Humber College in 1996. In addition to starting as a Primary Care Paramedic, he also worked at York County Hospital as a Cardiac Technician. In 1999 Tarmo attended the Michener Institute graduating with an Advanced Care Paramedic Diploma. Tarmo has worked as a paramedic in York Region, Durham Region, Peel Region and Northumberland County. Tarmo has also been a paramedic preceptor, base hospital educator and college paramedic educator teaching and mentoring paramedics at both the Primary and Advanced Care levels.

Tarmo's management career began in 2007 as Deputy Chief of Quality Assurance and Education. In addition to this first management role, Tarmo has also served as Deputy Chief of Operations as well as Chief of Northumberland Paramedics. He has also served on the Boards of Directors of both the Paramedic Chiefs of Canada and the Ontario Association of Paramedic Chiefs. Immediately prior to joining Toronto Paramedic Services, Tarmo served as the Director of the Emergency Health Services Branch at the Ministry of Health and Long-term Care. He was responsible for the funding, regulation, licencing and standards setting for the land ambulance, air ambulance and the ambulance communications services in Ontario.

In addition to his management roles, Tarmo continues his degree studies at Ryerson University in Toronto at the Ted Rogers School of Management.

In joining the Toronto Paramedic Services team in February of 2017, Tarmo is responsible for the Toronto Paramedic Services Ambulance Communications Centre.