I
n 1850 the Town of Weston was located on the west bank of the Humber River near the present Weston Golf and Country Club. During this year a storm caused serious flooding of Weston, almost wiping it out. As result of this flood, the town was rebuilt on the higher east side of the Humber River where it remains today.
One hundred and four years later on October 16, 1954, the Humber River once again came to life leaving a path of destruction in this area.
Hurricane Hazel developed October 5, 1954 as a tropical storm 18 KM east of Grenada. By October 11th it crossed over Haiti leaving up to 1,000 people dead in its wake. When the storm made land in the United States it had wind speeds of 240 Km per hour and left behind ninety-five deaths.
By the evening of October 15, Hazel reached Lake Ontario with winds peaking at 120 km/h. Normally hurricanes blow out by the time they reach the Toronto area, however Hazel collided with a low-pressure system and picked up extra moisture and intensified.
<!–more–>The Toronto watershed (4,500 sq. mi.) had already been receiving rainfall for several days previous, resulting in a saturated ground no longer capable of absorbing any more water.
Leading up to the arrival of this storm, the local media reported that the area was going to only suffer the effects of heavy rainfall, and this was a non-issue. As a result the authorities did not prepare themselves for any serious problems and everyone carried on with the attitude that it was business as usual. As the storm approached Toronto on Friday October 15, the city experienced major traffic jams due to flooded roads and most people would talk of how they had The Humber River under normal conditions become drenched by being out in the heavy rain for only a short period. The headlines in the Toronto Star for Friday October the 15th reported, "HURRICANE MAY HIT TORONTO AROUND MIDNIGHT"
"Heavy rain will continue until Saturday morning and may reach 3 1/2 inches. Roads have been flooded, especially in low areas and underpasses. A normal fifteen minute drive would take up to an hour."
In the Greater Toronto Area it was common practice to build homes near rivers, not learning the lessons of 1850. For many years these homes would experience periodic flooding, but generally it was something people would just cope with. Unfortunately this practice of building on flood plains would eventually result in disastrous consequences, especially on Raymore Drive in the Lawrence and Scarlett area of Etobicoke.
Early into the evening of Friday October the 15th, emergency services started to receive numerous calls reporting flooded basements. As the evening wore on numerous calls then changed to reports of people trapped in trees, cars and of homes that had been flooded. The various rivers around the Toronto area had become saturated to the point where they could no longer hold the rushing water, causing the banks of the rivers to overflow.
In 1954, Mr. Robert Scott (former Field Superintendent of the Toronto Department of Ambulance Services), worked for the family run "Scott Ambulance Service" in Woodbridge. During the storm, Bob recalled working all through Friday night and well into the next day helping to rescue people from the second-floor windows of flooded houses in the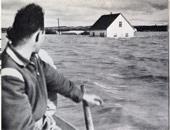 Woodbridge area. Once rescued, the patients usually suffering from exposure, had to be cared for locally since Woodbridge was virtually cut off from the surrounding areas due to the flooding. In Woodbridge alone 250 were left homeless.
The Holland Marsh area is reclaimed swamp land, vulnerable to flooding in a major storm. The passing of this storm resulted in extensive flooding in this area, trapping many people in their homes and the eventual displacement of 3,000 people.
As the evening wore on, trees and other debris started to build around the various bridges on the Humber River, thus putting extreme stress on these structures. As the pressure increased the bridges would finally give way causing a tidal wave of water to flow down the river to the next bridge, where
again more debris would cause a blockage, causing the water to build even higher. Countless numbers of people were suddenly stranded in cars and homes as the water level suddenly raised around them.
One such street known as Raymore Drive in the Scarlett Road and Lawrence Avenue area was built on low land near the riverbank. It was on this street 36 people died and numerous homes were washed away when the Raymore Bridge gave way causing a twenty foot high wave to flow with such a devastating force that homes were torn from their foundations and taking many people with it.
Former Toronto Ambulance Service, Director of Operations, Mr. Leonard Klinck who operated his own ambulance service at the time, recalls working during Hurricane Hazel. He indicated many roads in the Metro area were flooded causing massive traffic jams, resulting in many delays of ambulances getting to the sick and injured. Mr. Klinck recalls that the medics were run ragged just trying to keep up to calls for assistance that night from people trapped or suffering from exposure. Mr. Al Locke a former ambulance service owner, and later a paramedic for the Toronto Ambulance Service, recalls that he worked for Klinck Ambulance Service at the time. He was dispatched to attend to the report of trapped people in the Raymore Drive area.
One of those calls resulted in him helping in the rescue of a man trapped in a tree in the flooded valley. They spent over a half-hour trying to rescue him by throwing out ropes, with him finally catching one. Unfortunately the trapped person lost his grip on the rope and he was washed down the river never to be seen again. Mr Locke indicated the river was very dangerous due to trees, parts of houses and other debris being washed down stream and it was necessary to dodge this while rescuing people. Al also indicated that just after he drove the ambulance over the Lawrence Avenue Bridge, the raging water washed the bridge out.
Len Klinck recalls the devastating effect the various emergency services staff felt by the death of five volunteer firemen who were washed to their deaths as they attempted to rescue people trapped in their car, in the Humber River Valley South of Dundas Street.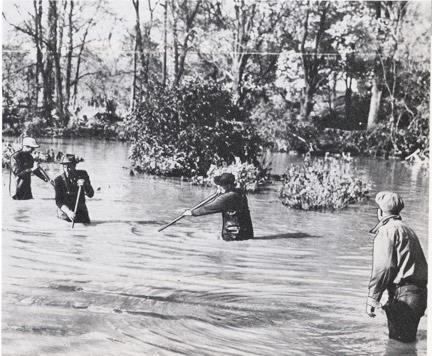 All bridges over the Humber River with the exception of the Bloor Street Bridge were washed out or severely damaged, causing a major disruption of traffic in the west end of the city. A commuter shuttle service was instituted from Malton Airport to Toronto Island Airport in order to move people to work. If you wanted to drive, your route would take you to highway seven before you could cross over the Humber.
This storm caused the death of 81 people in southern Ontario. Thirty six alone on Raymore Drive, twenty were killed in the Woodbridge area, seven in the Long Branch area, five in Beeton and numerous other communities suffered deaths. Whole families and were wiped out. Some of the bodies were buried under 2 meters of silt, some found in trees and many washed out into Lake Ontario. The storm dropped three hundred million metric tons of water on the Greater Toronto Area watershed.
Police, Fire, Ambulance Staff, Harbour Police Lifesaving Officers, Military, Ontario Hydro helicopters, and ordinary citizens assisted in the rescue of many people that fateful night.

The ironic thing about this flood was the shortage of drinking water and the fact that it had to be trucked to many locations. Medical Officers of Health set-up inoculation stations to prevent the spread of typhoid. Seventy-five St. John Ambulance Members were pressed into service to assist in caring for members of the community and the recovery of bodies.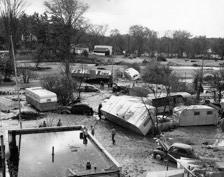 Hurricane Hazel eventually blew itself out over James Bay, but this storm left in its wake the need to improve many services in the Metro Toronto area. The Metro Toronto Conservation Authority was developed to restrict development on the flood plains, develop long-term planning, build flood-warning systems and improve water control on major rivers.
In Metro Toronto there were 13 police forces, 13 fire departments and numerous ambulance services all working on their own. There was no central communication centre prioritizing calls or providing much needed resources. Many medics found themselves tied up in lengthy rescue operations. This storm only reinforced the need of improving civil defence and disaster planning in the community. Once again this local disaster proved that a single ambulance service and communication system, was needed in order to properly respond to the needs of the public.
In 1967 a central ambulance dispatch was created to control the various ambulances in the Metropolitan Toronto area, however it was not until 1975 that all ambulance services were amalgamated into a unified co-ordinated service.
There was very little reported in the news media about ambulance services during the storm, which was not uncommon. However! There are many unnamed ambulance medics like Len Klinck, Bob Scott and Al Locke that made a difference that long night, attempting to rescue people trapped by the floodwaters and care for numerous patients suffering injuries and exposure.
The reference material for this article was obtained from archived copies of the Toronto Star. The 1850 flood report, the Globe & Mail, City of Toronto Archives, York University Telegram Collection, personal interviews with, L. Klinck, R. Scott, A. Locke and other citizens who "survived Hazel".
On October 16, take a moment to remember those that lost their lives during Hurricane Hazel and recall how your ambulance service colleagues of the day made a difference to so many people that night 62 years ago.
–Bruce Newton, October 2016